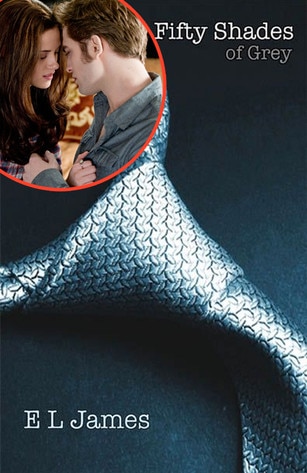 Kristen Stewart Talks

Twilight

-Inspired

Fifty Shades of Grey

—Is She Up for the Racy Lead Role?!




From Eonline.com
Forget the lame
Breaking Dawn
sex scene: There's a new, deliciously dirty novel set for the big screen—ya know, the Twilight-Inspired fan fiction Fifty Shades Of Gray
—and we're oh so excited for casting to begin on this trashy franchise takeover.
But turns out, our dream team—Robert Pattinson and Kristen Stewart , duh—just might be up for the pornographic parts!
So, what did Stewart spill about the racy role?
"It's funny—I heard about it yesterday. Rob [Pattinson] and Wyck [Godfrey], our producer, were talking about it," K.Stew dished to EW when asked about the raunchy role. "I've heard it's quite sexy, very titillating."
Quite sexy? That's the understatement of the year, babe. The book is dirty, graphic and sexually explicit in every way—so much so that even an R rating might be difficult to nab without some serious watering down of the sexual substance.
But the racy read sounds right up K.Stew's badass alley—it's got all the deliciously dirty deets Stephenie Meyer was too timid to pen.
So, will Stewart read the story inspired by her Bella counterpart?
"Hell, yeah!" she admitted with total enthusiasm!.
We're so thrilled Stewart's behind the project, titillating tone and all. We would kill to see a real Robsten sex scene between Twilight-inspired characters Christian Grey and Anastasia Steele—after all, the cheesy Twilight forbidden love is gettin' real old.
But as deliciously dirty as the novel may be, author E.L. James insists it's a love story with loads of mainstream appeal.
"It's a romantic fantasy story...I don't see it as erotica. I see it as a contemporary romance," James explained to EW.
She also elaborated on the racy nature of the read: "Yes, it's quite graphic, but when people fall in love they have sex. Well, actually, they have a lot of sex...It's for ordinary women who like some spicy sex."
Mommy porn at its finest! And it's about time a super hot romance hit the big screen.
So, let's get this casting couch in full swing!
What say you, Awful readers? Are Pattinson and Stewart the obvious choices? Or do you have someone else in mind for the raunchy roles?
WELL HERE @ BTB UNCENSORED WE VOTE:
FUCK YEAH!!!!!
**Thanks AZ_Chica_BTB for the news!!!**